Mugshot: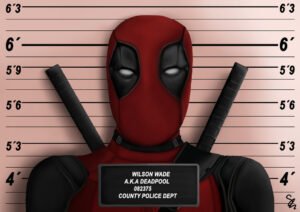 Super Hero Alias:
(Imposter) Deadpool
Superpower/Mutation:
accelerated healing or being awesome
Hometown/Planet:
Canada
Position you are applying for:
#1 best man
List any relevant skills to heroic duties:
i wont die.
Q1 a. a blind old lady needed to cross the street?:
help her then show her what could have happened and get ran over
Q2 c. you gained access to time travel?:
make a real back to the future
Which of the following situations would you be comfortable in?:
a. Intensive bootcamp training,
b. Jumping out of planes,
c. Life-threatening situations,
e. Making difficult moral decisions,
f. Combat triage,
g. Babysitting teenage mutant ninja turtles,
h. Starting an "F word" with your S.O.,
j. Bee-keeping
Deadpool Trivia Quiz Result
Unknown
Status
✔️ Accepted for the Position: Foot Health Gain Facilitator
Reason
Because I am a generous boss and I needed desperately a Foot Health Gain Facilitator!