Mugshot: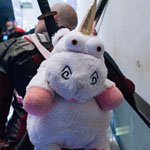 Super Hero Alias:
Mr.Fluffelz
Superpower/Mutation:
Rainbow Farts
Hometown/Planet:
Milky Way
Position you are applying for:
Chocolate Taster
List any relevant skills to heroic duties:
Carrying Epic Loot in my backpack
Q1 a. a blind old lady needed to cross the street?:
eating freshly made popcorn while watching her trying crossing the street
Q2 c. you gained access to time travel?:
Investing all my money into Ben & Jerry's, Google, Apple, Amazon & Bitcoin
Which of the following situations would you be comfortable in?:
None
Deadpool Trivia Quiz Result
Unknown
Status
✔️ Accepted for the Position: Chocolate Taster
Reason
Every Super Hero team needs a rainbow farting Unicorn to be complete.
Unsocial Media